Dana Emanuel, Director of Innovation at New Moms, shared her experience with integrating Family-Centered Coaching by cultivating a culture of continuous feedback.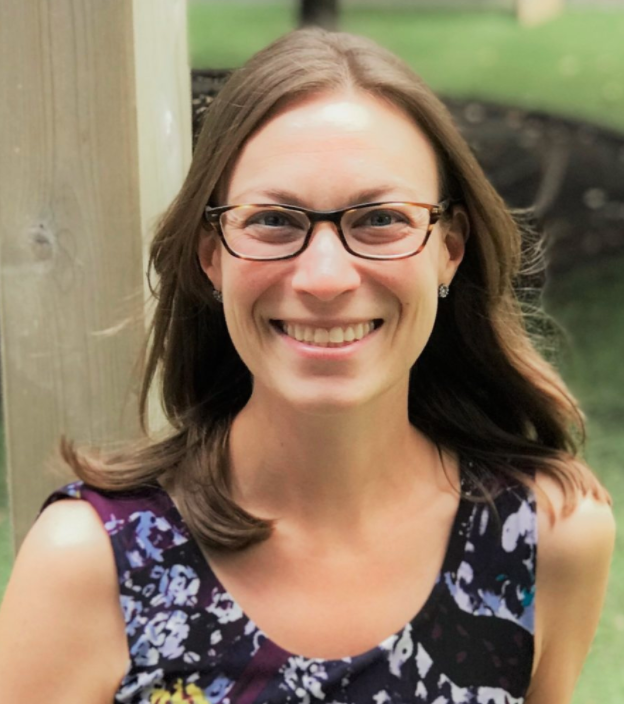 "The FCC mindset and approach is more equitable than the average hierarchical case management approach. We talk all the time about shifting power to participants–they say that it feels different at New Moms. In the absence of other hard data, we continue to do this work because we hear from participants and coaches that this approach is more equitable."
New Moms is a Chicago-based organization working with young moms experiencing poverty. The entire team at New Moms, including senior leadership, has been trained in the FCC approach and mindset and has committed to the process themselves.
"We trained everyone in the organization, from our management to our financial department, to coaches. Everyone has the same foundational knowledge of FCC. Within our HR group we have made changes in our hiring and interviewing processes that are more FCC informed. They are working on standardizing the FCC approach across all aspects of the organization."
After taking the leap to invest in FCC training, New Moms was able to more closely align their program practices with their values.
"Before FCC training we didn't have a consistent approach and mindset around coaching. Coaches used whatever approach they learned from school or tools from previous jobs to deal with whatever crisis came up."
To ensure that an FCC mindset and practice was truly embedded across the organization, New Moms cultivated and normalized continuous feedback. They are investing in the process because they see better outcomes when staff is continually learning, growing, integrating, and refining FCC.
"After the training and implementation of FCC we saw such success in participant outcomes, basic metrics like coaches saying that they liked it, that they felt like it was more equitable and empowering, and that it gave them consistency in their approach."
As a result of how they have implemented Family-Centered Coaching, they have experienced better relationships with staff and participants, higher staff satisfaction, and an overall feeling of hope.
How to cultivate a culture of feedback:
Make feedback accessible and collaborative: New Moms use communication tools like Slack to pose questions that engage with their team on a regular basis, asking questions to the team embeds a cultural norm of continuous feedback and encourages staff participation. New Moms utilizes anonymous feedback loops such as individual and organizational assessments.
"With the help of The Prosperity Agenda we have utilized organizational and individual assessments within the organization which allowed us to see the areas we needed to focus on. That feedback nudged us to send a core group of coaches and supervisors to the expanded FCC training and they came back energized, excited and thrilled about it."
Value and appreciate staff voices: Leadership and supervisors are appreciative and encouraging of feedback. There is an active effort to integrate staff input into their continued learning process.
"FCC gave coaches a common set of terms and a shared language. Hearing from our coaches and participants how it makes them feel goes a long way and might not be the quantitative data that some people are looking for, but after hearing from our team we are confident that FCC is the right thing for our organization."
Create space for feedback: Program supervisors create regular check-ins to gather feedback during weekly team meetings. Making feedback a part of the organization's norm, makes staff feel more comfortable to share.
"It couldn't just rest with those who had the intensive frontline FCC training but needed to be woven into our broader practices agency wide. Everyone has a stake and a role to play in FCC. This called for and continues to call for further investment."
Allow time for difficult conversations: Difficult conversations with staff around complex topics like equity and inclusion are important to have and take time. Committing and valuing these important conversations creates more meaningful and lasting change.
Have a dedicated staff position and/or group working to measure and implement FCC: Create an entire position to manage the implementation and iteration needed for this approach.
"Senior leadership saw the value in creating an entire position to really manage the implementation and iteration needed for this approach, and additional program innovations, to live beyond just one program and be able to be woven into our entire organization. We also had four steller rock stars who attended FCC training with TPA and they became the focus group along with a few additional frontline coaches.

We called this group our FCC Champions. They worked together as translators to apply the material from the training into the context and constraints of New Moms. They built-out staff training modules, goal setting templates, and an abbreviated FCC toolkit, which is a tipsheet that each coach has to take with them on home visits (or virtual coaching sessions, during Covid-19)."
Grow alongside families: The buy-in at New Moms, their commitment and implementation, has created an environment where FCC continues to grow, staff feel more empowered, participants feel heard, and the organization thrives. Most importantly, participants of New Moms experiences holistic care that enables them to grow.
"FCC celebrates participants' strengths and skills by highlighting the success of goal progression in addition to goal achievement. There is a lot of impact left on the table when we don't account for goal progression – but with FCC we account for and celebrate these successes. With FCC, a mom sees her goal progression as a win, and over time builds her confidence muscle to achieve bigger and more complex, long-term goals."
As you read and reflect on how this organization's experience might apply to your own, remember that one size doesn't fit all. The Prosperity Agenda works to integrate Family-Centered Coaching in alignment with your community by working together to design programs that families need and deserve.